After The Holiday Party, there's the After Party.
It's a scene of moderate pandemonium as a hundred drunk out-of-towners try to come to a consensus on a location. "Let's bounce!" quickly turns into "We're going to bounce!" which then turns into "We're going to Bounce…. a bar called Bounce." Long story short, pick a spot, make like titties, and bounce.
Go ahead and buy the first round of drinks. It's all going on Corporal Amex, but you'll feel more badass than this guy.
The alcohol is flowing and things are starting to get a little weird. There will probably be a She's All That candidate you last remember wearing glasses and an office suit. Now she's dancing on a table.
Stay tuned, because in t-minus 20 minutes, you'll witness an epic fall.
Welcome to alcohol! Everything in moderation. Try not to laugh as she's carried off by a few guys.
Perhaps the most troubling part of the holiday party, is the inevitable horn-dogging of your managers and senior managers. Aren't you guys married?! Don't you have kids?! Weren't you neutered?!
Do, however, cheer for the shy guy on your team that's making out with a random hottie at the bar. Well done, good sir. Well done.
As for you, you realize that you're getting older and your moves are a lot more awkward and uncoordinated than they used to be.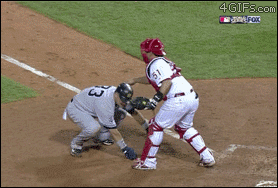 Some of the guys decide to go to a strip club and ask you to join.
Unfortunately, you can't see straight and it's time to call it a night and head home.
After the After Party? There's the hotel lobby. No, R. Kelly isn't giving out free showers to every SPG Platinum member. 90% of you are staying at the hotel and as you stumble "home" more erratically than a North Korean missile, contemplating the efficacy of the elevator lobby button as a urinal, your project partner shows up.
With She's All That.
The Holiday Party.
Where dreams are made.
[Disclaimer: All stories/situations in this post, while hilarious, are entirely fictional. Minus the fact that R. Kelly pissed on people. That shit is true.]